Clarification Separator
This Clarification Separator is a 75 gpm unit with 85-gallon single hopper.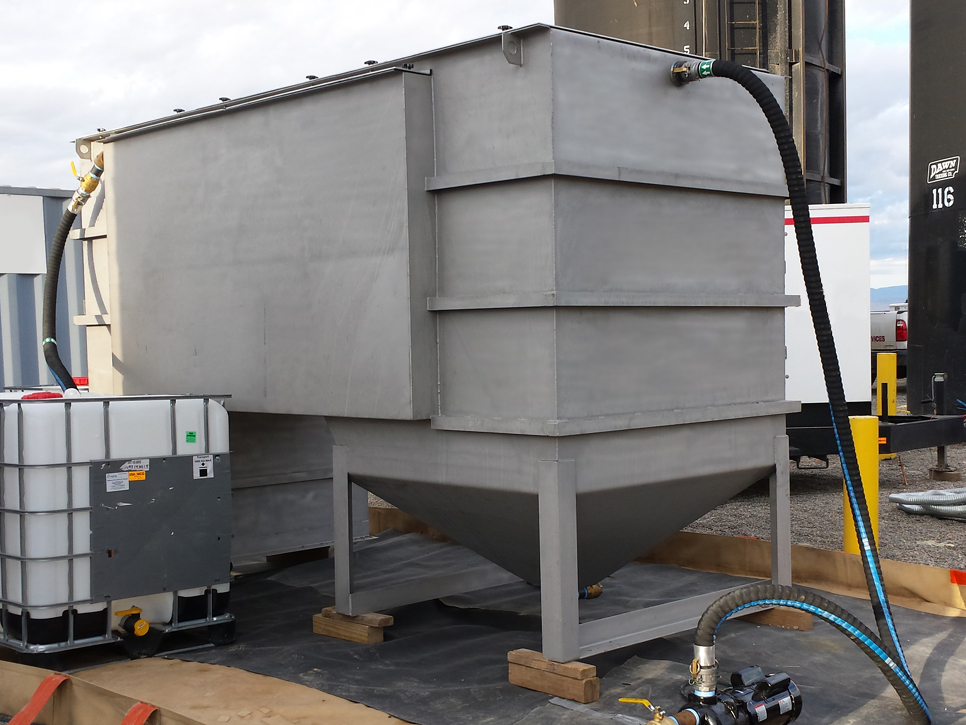 Clarification Separator
A bead-blasted stainless steel Clarification Separator operating in the oil and gas industry.
Clarification Separators
The Hydro Quip Clarification Separator is a horizontal gravity flow treatment system designed to separate settleable solids (specific gravity greater than water), suspended solids (specific gravity the same as water), and free and dispersed (non-emulsified) oil.
The Clarification Separator is recommended for any application that has oil and a high concentration of settleable and suspended solids.
Our revolutionary design lowers the total cost of ownership of the entire water treatment system by:
preventing large amounts of solids (the number one reason for coalescing media failure) from entering into the coalescing chamber
eliminating the need of inefficient settling basins or frac tanks prior to the treatment process
decreasing the amount of carryover entering into the post-treatment process
Smaller Units
The smaller Clarification Separators have flow rates of 150gpm or less, and feature a single hopper.
Larger Units
The larger Clarification Separators have flow rates of 200gpm or above, and feature a double hopper.
Our Clarification Separator, when used in conjunction with posttreatment filtration, such as reverse osmosis (RO), dissolved air flotation (DAF) or electrocoagulation (EC), treats wastewater so it can be recycled or discharged.
Equipment Options
Relocating pipe fittings for easier installation
Provide registered P.E. stamped calculations for Reynolds Number, Stokes Law, seismic, structural and/ or drawings
Hinged covers with prop rods for ease of maintenance
Oil storage compartments
Float switches
Immersion heaters
Pump packages: Influent, Effluent and Oil/Sludge
Control Panel
Level Indicating Systems
Various types of skimmers
Sightglass Assemblies
Oil & Gas Applications
Onshore and Offshore Drilling Operations
Oil Refineries
Flowback Water from Hydraulic Fracturing
Produced Water
Waste Oil Processing Facilities
Frac Water
Other Applications
Washing Applications
Industrial Applications